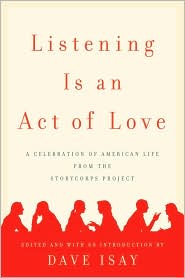 Last week was Bacon Week, so I made breakfast for dinner early in the week. (And again this weekend to finish out our monthly pound of bacon.) I think we have a new favorite bacon flavor--Cinnamon Apple Spice. Sounds weird, but it was delicious! And it smelled so good when it was cooking, too. Our bacon this month was from
Edwards & Sons
of Virgina. Their company website only sells wholesale, and I can't find another link for the bacon we loved, but I know K would love more of their bacon.
Speaking of bacon, would
this
be a disgusting stocking stuffer for K? I am fascinated & a little repulsed by that. My brother is also a big bacon fan--perhaps there's bacon floss in his future, too.
A week or so ago, I finished reading
Listening Is an Act of Love
, which was a book club selection. I reviewed it on
goodreads
, so I won't add a long review here. I really enjoyed this book, although several parts of it moved me to tears. The last section of the book (Fire and Water) was especially poingant, since it was stories about September 11th and Hurricane Katrina. I finished reading it the first week of September, so the past couple of weeks, the book has remained on my mind. I've never been a listener of the Story Corps Project on NPR, but reading this book made me want to hear every story, from start to finish. Someone in my book club said the stories are played on the radio some mornings, but there is no way I could listen on my way to work--I don't need to show up to work weeping!
I think I mentioned this on goodreads, but if not, it bears repeating: I wouldn't recommed this book to other book clubs. It's a wonderful book, everyone should read it, but it doesn't leave a lot for discussion. We talked about our favorite stories, talked about a few stories from our own lives (as related to the book), but that was it.